By caustin | August 14, 2010
I'm dreaming of heaven a bit today. There was a time when I approached this day, August 13th , with some dread. In 2002, a little boy changed the meaning of August 13th forever on my calendar. It is my Zachary's going home day—only the homecoming he had was not the one Jonathan and I had dreamed of. Rather than coming home with his dad, mom and brother, Noah, and beautifully prepared nursery , he was welcomed into his forever home by his loving heavenly father and creator. I've not been there but I am told that there are streets of gold, it is brilliant with jewels of every kind (Rev. 21:19-20) and all who are there live in the light of God's glory (Rev. 21:23). Best of all there are no tears, sorrow, pain or death (Rev. 21:4). I cannot help but smile in knowing Zach is in such a wonderful place, free of the pain and difficulties that he would have experienced here on earth.
It's been 8 years since that miraculous change in my life.  It was the most painful thing I've experienced in my 37 years but through my little boy's life and death, my heart was changed. With this changed heart I have learned I love deeper, laugh harder, sing louder, care more, sleep sounder and listen longer. This year, I have to admit that Zach's anniversary snuck up on me.  It hit me yesterday when I wrote down "August 12" that his going home was so close.  A rush of emotions swept over me.  I felt guilty for not remembering sooner yet those feelings were remarkably overshadowed by God's work in my life today and the joy He has given me in my life.  After I lost Zachary, I realized I was faced with a choice daily.  I could choose life or death.  In the days and months right after losing him, there honestly were times I struggled with choosing life.  Reality is, even without the grip of grief on my life, I am faced with the same choice—life or death—daily.  I can choose growth and things/people that nurture growth or I can choose stagnation or things that destroy and tear down.  It was fitting that I spent tonight with eight 4th,5th and 6th grade girls (and one 1st grader—Mikayla) from our church for a night of "sweet treats." We made and decorated cupcakes and made some chocolate treats. I shared a verse from Psalms. Psalm 34:8 "Taste and see that the LORD is good; blessed is the man who takes refuge in him."  I am thankful for all of my family and friends that faithfully send prayers up on this day for Jonathan and I each year.  Today was a good day.  Instead of sorrow, I felt some sadness.  But it has been more of a day of contemplation and thankfulness for God's healing and restoration in my life. I can say that life is sweet with God and HE truly is good…just doing a little dreaming.
Topics: Uncategorized | No Comments »
By caustin | May 4, 2009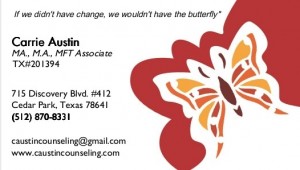 Hello Friends!
After many months of waiting and praying for an opportunity to continue my work as a Marriage and Family Therapist, I will finally be stepping back into the professional arena. I will be working out of the offices of Lakeline Church in Cedar Park, which has a counseling ministry. I am available to see families, couples, children and adolescents, as well as individuals. As a Marriage and Family Therapist, I view the family as a system that impacts it's individual members in many different ways. I enjoy working with families, helping them to move toward positive and long-lasting change, however, I value the importance of exploring the individual's relationship to their family and the impact they have experienced from their family. Drawing from my background in art, I enjoy utilizing various creative methods in the therapeutic process.
I will be working under the supervision of Dr. Kelly Barnett as a Marriage and Family Therapist Associate and will offer a sliding scale fee to all of my clients with fees ranging from $25-$45.
Please keep me in mind as you come in contact with those in need of Christian counseling. Potential clients can use the telephone number listed above to contact me directly to schedule an appointment. Helping families and individuals is one of my passions and I am thankful to have the opportunity to help hurting people once again through the field of counseling. Thank you for all of your prayers and encouragement while I waited on the Lord's timing in all of this.
Blessings to You!
Carrie Austin
MA, MA, MFT Associate
(AKA: Devoted Christ Follower!)
Topics: Uncategorized | No Comments »
By caustin | April 8, 2009
Topics: Uncategorized | No Comments »
« Previous Entries