« Star Wars Stop Motion | Home | Snow Globe | Merry Christams »
By caustin | December 19, 2008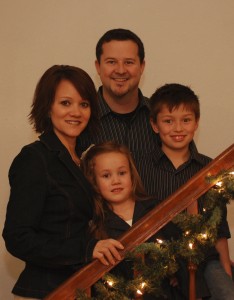 It is with such a grateful heart that we come to this holiday season.  This past year has held so many blessings and opportunities for growth for our family here in the big state of Texas.  It has been a year since we became "Austinites" (as locals are called here in Austin, Texas).  Despite occasional bouts of homesickness for the gulfcoast,we have begun to carve out our place in this new city we call home.  A year ago, we were praying for the sale of our home in Pensacola.  Thankfully, it sold after  just a couple of months on the market.  We currently await the beginning of construction on our new home which will only be about ten minutes from where we are currently living.  We have found a new church family in Hill Country Bible Church NW.  Our kids love their church and their spiritual growth accompanies the leaps and bounds of their physical growth.
Jonathan became a permanent employee of Texas Mutual Insurance in July after 6 months of working as a contractor for them.  He continues to grow Studio 30o87, the photography/video/design business he co-owns.  In some ways, the move to Austin was like starting all over, but he has grown in his abilities as a photographer and he continues to have work.  He and Noah have been taking Tang Soo Do (taekwondo) and they have progressed to their orange belt with a stripe.
We saw Noah turn 8 years old this year.  He has met each new challenge of 3rd grade with such courage. He continues to bring home straight A's. He has a love for understanding and dissecting problems (maybe he's more like his mom than we thought).    He loves playing RISK with his dad and you can always find a "battle" going on in his room between his army men and superheroes.  During the summer he participated in a choir camp at a local church.  He loves performing and is at ease on the stage.  This fall, he even got a part in the 3rd grade play which was entitled "The Cheese Stands Alone."  He was excited to be one of the rapping cheeses—we were proud of our little gouda cheese!
We celebrated 4 years with Mikayla Faith in 2008.  She and her brother continue to prove how polar opposite they are.  While Noah thrives on order and routine, she loves a mess and loves changing things up at a moment's notice.  The Lord put a song in Mikayla's heart and she cannot help but sing—about everything!  She also loves to dance and so ballet has been a wonderful experience for her.  Mikayla has been attending a preschool program three days a week this fall.  She's begun writing her name and she's nailed down her letters and their sounds.  She is still a huge fan of Disney princesses and Barbie, as well as the colors pink and purple.
I  continue to be a stay-at-home mom—a role that I am incredibly thankful for.  In July, I passed my licensed marriage and family therapist exam, which completed all the Texas qualifications for counseling that are required and I began my search for a place to begin counseling.  As of yet, nothing has opened up and so I continue to wait on the Lord's timing.  I did have the opportunity to attend the American Association of Christian Counselor's National conference in Dallas in October and thoroughly enjoyed it.  It was incredibly inspiring and encouraging.  Some of my other endeavors include starting a Mom's in Touch prayer group for Noah's school.  We meet every Monday morning to pray for the elementary school and its students. I've also gotten involved in the Griefshare ministry at Hill Country Bible Church and have found such purpose in supporting others through their grieving process.
As with the coming of every year, we look forward to seeing what is in store for us as individuals, as well as a family.  One thing is certain–it is always an adventure!  We are just hanging on for the ride.  Blessings to each of you during this holiday season and throughout the upcoming year.
Topics: Uncategorized | No Comments »
Comments
You must be logged in to post a comment.