« Final Walk-through Next Thursday | Home | My Heart in Heaven »
By caustin | May 4, 2009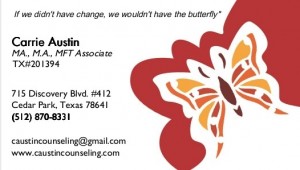 Hello Friends!
After many months of waiting and praying for an opportunity to continue my work as a Marriage and Family Therapist, I will finally be stepping back into the professional arena. I will be working out of the offices of Lakeline Church in Cedar Park, which has a counseling ministry. I am available to see families, couples, children and adolescents, as well as individuals. As a Marriage and Family Therapist, I view the family as a system that impacts it's individual members in many different ways. I enjoy working with families, helping them to move toward positive and long-lasting change, however, I value the importance of exploring the individual's relationship to their family and the impact they have experienced from their family. Drawing from my background in art, I enjoy utilizing various creative methods in the therapeutic process.
I will be working under the supervision of Dr. Kelly Barnett as a Marriage and Family Therapist Associate and will offer a sliding scale fee to all of my clients with fees ranging from $25-$45.
Please keep me in mind as you come in contact with those in need of Christian counseling. Potential clients can use the telephone number listed above to contact me directly to schedule an appointment. Helping families and individuals is one of my passions and I am thankful to have the opportunity to help hurting people once again through the field of counseling. Thank you for all of your prayers and encouragement while I waited on the Lord's timing in all of this.
Blessings to You!
Carrie Austin
MA, MA, MFT Associate
(AKA: Devoted Christ Follower!)
Topics: Uncategorized | No Comments »
Comments
You must be logged in to post a comment.